Back
Latest News
A Brief Analysis of the BIT Model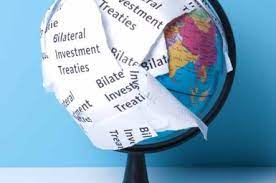 INTRODUCTION
Bilateral Investment Treaties (BITs) or Bilateral Investment Protection Agreements (BIPAs) are agreements between two countries to promote and safeguard investments made in each other's territory by individuals and businesses from both nations. They offer foreign investment with treaty-based protection. BITs are bilateral agreements between governments to safeguard each other's investors' assets in the other country. Even though governments sign them, the recipients are businesses.
In the mid-1990s, the Indian government supported BITs. India has negotiated 84 bilateral trade agreements (BITs) with a diverse range of nations, with 73 of them now in effect. The last Indian Model BIT (Previous Indian Model BIT) was launched in 2003, and India's current BITs are primarily regarded as investor-friendly. Over the last several years, several foreign firms have filed or threatened to file arbitration lawsuits against the Indian government. The Indian Model BIT was created in response to foreign investors suing India under several BITs, and it aims to rebalance the balance in India's favor.
USE OF BIT MODEL IN INDIA
Several international firms, including Vodafone, Nokia, and, most recently, Cairn Energy, have filed claims against the Indian government for breaking its duties under different Bilateral Investment Treaties (BITs) in recent years. In response, Indian authorities announced a draft BIT statute in early 2015. A final version was just issued, which would serve as the foundation for existing and future BIT-related talks. Although the draft BIT legislation tried to safeguard foreign investors' interests as much as possible, the model BIT legislation provides more excellent protection, but probably not enough. Notably, the Model BIT Law has a broad definition of "investment," which protects a wider range of investment-related activities; a narrow definition of "investor," which restricts protection to entities with significant business activity in the country; and non-discrimination obligations for states in terms of indemnification or compensation for losses incurred as a result of war, civil strife, or another armed conflict.
CONCLUSION
Many of the issues raised in the March Draft about India's agreement to an arbitration of disputes have been resolved in the Indian Model BIT, which should provide investors confidence that they have a clear path to commence proceedings. While there are several notable omissions compared to a gold standard BIT, which is most likely owing to India's recent poor BIT experiences, the Indian Model BIT nevertheless provides necessary investor safeguards.
Of course, the Indian Model BIT is only the beginning of India's trade discussions with its trading partners. The relative negotiating strength of the contracting nations will determine the result of any future BITs.
This Article Does Not Intend To Hurt The Sentiments Of Any Individual Community, Sect, Or Religion Etcetera. This Article Is Based Purely On The Authors Personal Views And Opinions In The Exercise Of The Fundamental Right Guaranteed Under Article 19(1)(A) And Other Related Laws Being Force In India, For The Time Being. Further, despite all efforts made to ensure the accuracy and correctness of the information published, White Code VIA Mediation and Arbitration Centre shall not be responsible for any errors caused due to human error or otherwise.
Introduction
Analysis BITs model
Conclusion
BY : Friyana damania