Back
Latest News
ADR Provisions under Contracts in US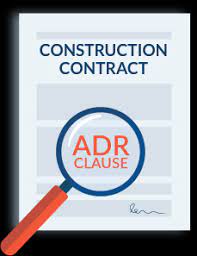 INTRODUCTION
ADR provisions are commonly used in corporate contracts as a precaution against being involved in a long, drawn-out legal battle with their counterparts. However, based on the maturity of the parties, the terms of the contract, and the types of conflicts that may result from it, among other things, an ADR provision might not be sufficient.
An ADR provision is a clause in a contract or agreement and allows for a conflict settlement procedure separate from the legal system. There are several factors to have an ADR provision in your contract. Reduced expenses (compared to litigation), increased efficiency/speed, strict conformity with due process, availability of arbitrator for arbitration, convenient scheduling, and secrecy of proceedings are only a couple of the advantages. When writing the contract or agreement, you can even think of various types of conflict settlement procedures.
Certain types of strategies are more tailored to some markets than others. Arbitration and consultation are two of the more popular approaches. Structured mediation, standing mission impartial, standing conflict arbitration commission, and expert determination are some of the most unusual approaches.
As beneficial as it is to both parties, and ADR provision must be well crafted and explicitly recognised by the parties to the arrangement, in addition to the agreement being duly enforced. For the clause to take force, these components must be present. Before finalising the deals, consult with a Nevada contract solicitor to ensure that the ADR provision is enforceable.
US SUPREME COURT'S DECISION
In the United States, courts had ruled in many instances by 1991 that, although a deal to arbitrate would be followed, agreements to mediate would be traditionally refused. Since then, though, there has been a complete turn toward a better comprehension and appreciation of consensual ADR approaches, as well as a consequent upholding of mediation arrangements.
While the cases on the enforceability of ADR provisions in the United States are not always consistent, there tends to be a fair amount of support for enforcing a good faith negotiation deal, such as the case of Channel Home Centres Division of Grace Retail Corp -v- Grossman.
US courts have also upheld alternative conflict settlement provisions. They are used in an agreement between the parties as a mandatory first phase before any lawsuit or arbitration.
In the case of Haertl Wolff Parker Inc. v. Howard S Wright Construction Company (Unreported 4 December 1989), for example, the Court ruled that "a settlement allowing for alternate conflict settlement should be upheld, and one party should not be able to evade the arrangement and return unnecessarily to the courts."
The United States courts are also actively enforcing laws, regulations, and resolutions for consensual ADR. Even though this seems to be an inconsistency in terms, this method seems to have done more than any other single mechanism to promote the extension of judicial authority to force involvement in voluntary ADR.
CONCLUSION
Including an ADR clause in an agreement, like every other relevant clause, is a question to think about. In a contract, the parties give up substantial protection when agreeing to arbitration or legal reference until a conflict occurs. They should consider the types of disputes that may arise, their difficulty, and the possible financial risk, as well as the fact that ADR usually necessitates the employment of arbitrators, referees, or mediators who charge over $500 each hour.
If the agreement to incorporate the rule has been taken correctly, a written clause will increase the parties' satisfaction with using the procedure if a disagreement arises.
This article does not intend to hurt the sentiments of any individual community, sect, or religion, etcetera. This article is based purely on the author's personal views and opinions in the exercise of the fundamental right guaranteed under Article 19(1)(a) and other related laws being a force in India for the time being. Further, despite all efforts made to ensure the accuracy and correctness of the information published, the white code VIA Mediation and arbitration centre shall not be responsible for any errors caused due to human error or otherwise.
This Article Does Not Intend To Hurt The Sentiments Of Any Individual Community, Sect, Or Religion Etcetera. This Article Is Based Purely On The Authors Personal Views And Opinions In The Exercise Of The Fundamental Right Guaranteed Under Article 19(1)(A) And Other Related Laws Being Force In India, For The Time Being. Further, despite all efforts made to ensure the accuracy and correctness of the information published, White Code VIA Mediation and Arbitration Centre shall not be responsible for any errors caused due to human error or otherwise.
Highlights the importance to include ADR clauses in contracts
Deals with few SC's judgments
Conclusion
BY : FRIYANA DAMANIA