Back
Latest News
ANALYSIS OF JAN LOKPAL BILL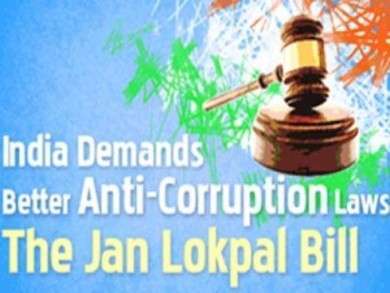 Analysis of Jan Lokpal Bill
Introduction
The Jan Lokpal Bill or the Citizens Ombudsman Bill is a draft prepared which is considered to be an anti-corruption bill, seeking appointment of Lokpal an independent body to inquire and investigate and complete investigation within one year and conduct trials for the case for the next one year on the matters relating to corruption and maladministration of public servants
The drafting aspect of the Jan Lokpal Bill was done by Justice Santosh Hedge former Justice of Supreme Court and former Lokayukta of Karnataka, Prashant Bhushan a Supreme Court lawyer and Arvind Kejriwal and RTI activist, a draft was envisioned a system in which the guilty person will be under trials within 2 years and imprisoned for the act of corruption and the ill-gotten wealth will also be confiscated. Jan Lokpal also had the authority to prosecute the politicians and bureaucrats without any prior Government consent.
Many people such as Kiran Bedi the retired IPS officer, Anna Hazare, Swami Agnivesh, Ravi Shankar, Mallika Sarabhai are all members of the movement for "Anti-Corruption India''.This movement is for is taking a vital action for corruption and eradicating corruption from the country. This Bill was enacted to create an effective deterrence against corruption.
Various modes were taken for the Bill to be adapted, Anna Hazare an anticorruption crusader, was in fast unto death, willing the bill drafted by Civil Society to be adopted for the betterment of the country by eliminating a major portion of corruption indulged by the Government officials.
Analysis of the Jan Lokpal Bill
Scope of Jan Lokpal Bill
An important aspect of Lokpal includes the right to prosecute the public officials including cabinet ministers, employees of public organization, and the Prime Minister, except matters specifying to foreign affairs, atomic energy, security, and space.
Advantages of Jan Lokpal Bill
The main advantage of this Jan Lokpal Bill is to resolve a predominant issue that is in relation to corruption.

The Lokpal who is considered to be a non-bureaucrat, non-politician will take all important decisions for the wrongdoer.

In the last 50 years, the bill is proposed to the Government, again and again, to hold the belief of the generation and make them all think that this can change the system.

The decision will be faster for resolving the matter when compared to earlier, the proposed decision will be one year and the punishment will be executed in 2 years.

People will not have to go through the grueling system for matters in relation to corruption.
Conclusion
With the expansion of Corruption in the country, it is imperative to curb corruption levels in the country, bringing public official and government functionaries under one control and a scanner which makes them strictly accountable is a new start for curbing corruption in India. This issue could be effectively solved with the implementation of the Lokpal Bill. Realizing the need with an immediate effect, Lokpal Bill was an effective solution to deal with corruption in the country and a mode to eradicate corruption in the nation.
Introduction (Drafting of the Bill)
Scope and Advantages of the Bill
Conclusion
BY : Subhasree Pati