Back
Latest News
The New York Convention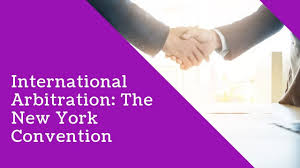 The New York Convention
Like the Singapore Conference on Mediation, the New York Convention has contributed to strengthen international arbitration. The Convention on the Recognition and Enforcement of Foreign Arbitral Awards, commonly known as the New York Convention, was adopted by a United Nations diplomatic conference on 10 June 1958 and entered into force on 7 June 1959. It is said to have laid the foundation for international arbitration and it applies to arbitrations that are not considered as domestic awards in the state where recognition and enforcement is sought. As of March 2020, the Convention has 163 state parties, which includes 158 of the 193 United Nations member states.
International arbitration has become widely accepted worldwide as the most successful means of alternative dispute resolution for cross-border commercial as well as all other sorts of transactions. The main advantage of arbitration over court litigations is the factor of enforceability. An arbitral award is enforceable in most countries in the world. Moreover, it gives a neutral forum to resolve disputes and also the flexibility to choose procedures and also provides confidentiality. The New York Convention is considered as the most successful treaty in private international law. There are two basic actions observed by the New York Convention: the recognition and enforcement of foreign arbitral awards and referral by a court to arbitration.
The success of the convention is easily highlighted by its acceptance by 163 states. Moreover, the two principles of the convention ( recognition and enforcement of arbitral awards) are its major contribution to the resolution of disputes. While the former provision upholds the principle of party autonomy by requiring national courts to refer the parties to arbitration, the latter includes a system of recognition of foreign arbitral awards in States bound by the Convention subject to limited exceptions.
However, even though the New York Convention is globally regarded as one of the most successful treaties, it wouldn't be wise to ignore that some of its aspects could be subject to improvement. It is sometimes argued that the Convention is incomplete. For instance, in article II, when establishing the formal requirements of an arbitration agreement, the Convention does not set out what the words "in writing" mean. Some uncertain concepts of the Convention such as the public policy ground to resist enforcement of arbitral awards, can be used by national courts as a way of getting around the framework and objectives of the Convention.
The New York Convention has majorly contributed to the adoption and development of arbitration as a method to settle international trade disputes. Although there are some minor problems, an appropriate legal interpretation will overcome the disadvantages. In times where uncertainty has become a part of the international legal system, it is significant to highlight the attributes, success, flexibility and importance of the New York Convention. It has given a new edge to the concept of international arbitration and has made it accessible to everyone globally.
Arbitration
The New York Convention
Role in international arbitration
BY : Riya Dani