Back
Latest News
Importance of mixing the modes of arbitration and mediation in International Commercial Dispute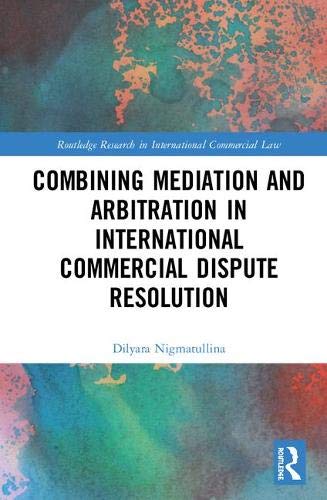 Importance of mixing the modes of arbitration and mediation in International Commercial Dispute
One of the trends is growing over the past few years in the international commercial dispute is combining the modes of arbitration and mediation. It has been perceived that combining the two modes will help achieve certain process goals such as international enforceability, cost-effectiveness, and relationship preservation.
Introduction
From a combined data of the Global Pound Conference series from 2016-2017, it was found 52% majority suggested that the most effective dispute resolution was attained by combining arbitration and mediation. This information shows a clear survey that a combination of the modes can have a great forward impact. One international growth that can impact mediation and arbitration in international disputes is the United Nations Commission on International Trade Law (UNCITERAL) and also convention on International agreement arising from arbitration and mediation.
The three goals that can be achieved from mixing arbitration and mediation are
international enforceability

cost-effectiveness

relationship preservation between the parties
International Enforceability
There are different jurisdictions, portraying the enforceability of mediated settlement agreement that has been put forth in two different ways. First, a mediated agreement can directly be enforced in courts. For example, Canada allows registration of mediated settlement agreement with a Superior Court of Justice and the agreement should have the same force and effects compared to a judgment to a court. There also many other countries that have opted for this mechanism such as countries like the Philippines, Singapore, etc. Second, the mediated settlement agreement was to allow enforcement as consent for the arbitral award. For instance, Section 73(3) of the Indian Arbitration and Conciliation Act, 1996 the dispute settlement agreement is binding on the parties and it involves a legal force and effect for the arbitral award.
Cost-Effectiveness
Cost-effectiveness surrounds the notion of less time consuming, increased efficiency. Cost should help the party to gain effects in terms of monetary service and also the ability of the process to bring out the necessary desired outcome. It is also believed that a combination of the Arbitration and Mediation process is cost-effective and a more flexible process while retaining the benefit of enforceability.
There are also other advantages when arbitrator and mediator are the same people, they are well aware of the dispute so chances for duplication of work, expense, or delay in the process is reduced.
Preservation of the relationship between the parties
The relationship between the parties can be done effectively by mixing arbitration and mediation. With both the process, it assists the disputing parties to maintain peace and harmony among themselves. It also provides a satisfying nature for the disputants.
Introduction
Goals that can be achieved by combining arbitration and mediation
Description about the goals
BY : Subhasree Pati