Back
Latest News
PARLIAMENTARY COMMITTEES – AN INSTITUTIONAL SUPPORT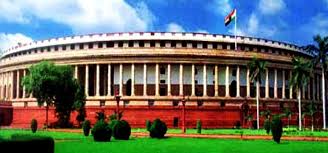 PARLIAMENTARY COMMITTEES – AN INSTITUTIONAL SUPPORT
CONTEXT
With the commencement of the 17th Lok Sabha, the ruling government is on a spree of enactment of bills. Recently several bills have been passed by the government in a brief period of time, making 17th Lok Sabha one of the most productive Lok Sabha in history. According to the data released by a Parliament Research think-tank, "Lower house session productivity till July is at 128% which is the highest for any session in the past 20 years."
But the primary reason behind the rapid enactment of bills is that all these bills have been passed without scrutiny by parliamentary standing committees. After the formation of the 17th Lok Sabha, parliamentary standing committees have not been constituted as consultations among parties are still underway. Partly as a result of this, the Bills were passed without committee scrutiny. The enactment is only preceded by a brief discussion with duration ranging between two and five hours. Several opposition leaders have criticized this move as against the purpose of the parliament stating that thorough discussions and scrutiny for any bill is essential, as any unchecked aspect of a law may have its implications over a large swathe of people.
The speaker, in response, has given a ruling that at least two days prior notice should be given to the MPs before the introduction of any bill from the next session. But this move will be applicable from the next session and seeing the swift pace at which the bills are passed, it seems no bills will be left for the next session
PARLIAMENTARY COMMITTEES
There are no specific constitutional provisions are in effect about their membership, employment, duties, etc. Parliamentary committees derive their authority from Articles 105 (on the privileges of Members of Parliament) and, Article 118 which states the authority of Parliament to lay down rules regulating its procedure and business conduct.
The Parliament is too unwieldy and diverse a body to deliberate effectively on the issues that come up before it. With more than 500 members with diverse or sometimes no viewpoint over an issue, the parliament is not appropriate for heavy analytical discussions over a single bill, as it will cost a lot of time. Moreover, it has neither adequate time nor necessary expertise to make a thorough review of all legislative measures and other matters.
Therefore, it is assisted by a number of committees in the discharge of its duties. They are set up not only to take care of crucial tasks but also to provide necessary guidance and suggestions to the government while formulating long-term policies. These small groups undertake in-depth analysis, gather public and expert opinion and then submit their recommendations as a report.
AD-HOC COMMITTEES
The ad hoc committees are set up to operate on a specific task and are disbanded until it has been completed. Under this grouping, the Select and Joint Committee on Bills are the main committees. The committees chosen are unique to bills. If there is a logjam on a specific bill, they are constituted. This could be a house-select committee or a joint parliamentary committee. Joint Parliamentary Committee is formed only when motion is adopted by one house and supported by the other. In JPC Lok Sabha members are double compared to Rajya Sabha. The first JPC was formed in 1987 to investigate the Bofors scandal.
STANDING COMMITTEES
Unlike the Ad Hoc committees, the standing committees are permanent and regular in nature. Most Bills, after their introduction, get referred to department-related standing committees. There are 24 standing committees, each dealing with specific subjects such as commerce, home affairs, HRD, defense, health, etc. Out of the 24 Committees, 8 are within the administrative jurisdiction of Chairman of Rajya Sabha, and rest are administered by the Lok Sabha Speaker. Each standing committee has 31 members — 21 from the Lok Sabha and 10 from the Rajya Sabha — nominated by the Speaker and the Chairman. It was back in 1993 when 17 department-related standing committees were constituted. In July 2004, seven more such committees were added, taking the total to 24. All the ministries and departments of the Indian government come under the jurisdiction of these committees.
IMPORTANCE
Committees are forums for threadbare discussion on a proposed rule. The smaller group of representatives, selected on the basis of individual parties' proportional power, could conduct more transparent, intensive, and better-informed discussions. Committee meetings are 'closed-door' and members are not bound by party whips, which gives them room for a more substantive exchange of views as compared to full and open house sessions in which party positions inevitably dominate. Getting feedback from the public and building political consensus. Under the fog of political representation, committees perform their tasks. They run throughout the year and improve Parliament's productivity and expertise. To put it another way, these committees serve as legislative institutional support.
Parliamentary committee
Intellectual Assistance
Lok Sabha
BY : Udbhav Bhargava