Back
Latest News
Stamp duty and its consequences for arbitration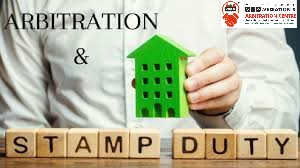 Stamp duty and its dangerous consequences for arbitration
Stamp duty and its consequences for arbitration
Introduction
Many articles have been written on the effect of non-payment or underpayment of stamp duty on content agreements with arbitration clauses, and whether such a default would interfere with the performance of the arbitration agreement.
It should be made clear at the outset that the purpose of this section is not to examine whether a provisional license may be granted under sections 9 or 17 of the Arbitration and Conciliation Act 1996 ("Act ") When incomplete/unstamped documents contain an arbitration agreement, arguing that it is no longer in dispute. The ruling of the entire Bombay High Court bench in Gautam Landscapes Pvt. Ltd., Mumbai issuing Shailesh S. Shah 2019 (3) Mh.L.J., and the recent Supreme Court ruling in N.N. Global Mercantile Pvt. Ltd v. Indo Unique Flame Ltd. & Ors. 2021 SCC OnLine SC 13 ("NN Global"), clarifying that temporary relief can be obtained even if the agreement for unencumbered/stamped content is incomplete.
Questions regarding the performance of an arbitration agreement contained in an unstamped / incompletely stamped instrument may arise in any of the following circumstances: (i) before the court recovers retain a claim under section 8 of the Act; (ii) in section 11 Filing before the Supreme Court or the Supreme Court in connection with the search for arbitrators appointed by the Court under Part I of the Act; and (iii) before the arbitrators themselves, at the time of the referral or in the application under section 16, when a party may raise challenges to jurisdiction under the Act. The stamp duty issue has once again gained public attention following the recent three-time Supreme Court ruling of NN Global.
Supreme Court judgment at NN Global
Supreme Court at NN Global, based on the doctrine of segregation, based on the doctrine of segregation, held that an arbitration agreement was a separate and distinct contract that shows an internal agreement to bear any stamp duty Payments. Therefore, the derived position of NN Global is that the Court may refer the dispute to arbitration or refer to arbitration, as the basis of an arbitration agreement (different and separable) in a main unencumbered text / completely unstamped. The court or arbitrator, as the case may be, will also be required to retain the unmarked / incompletely stamped main instrument and return the same to the decision of the stamp collector following the provisions of the relevant stamp law (i.e. is where NN Global does not differ from previous decisions).
Conclusion
The corollary of the discussion above is that one could now argue that judicial title requires it, with the registered approval of SMS Tea Estates in Dharmaratnakara, NN Global court should not have canceled SMS Tea Estates but instead moved all decisions (similar to Garware and Vidya Drolia) to the Constitution Bench for decision.
(This Article Does Not Intend To Hurt The Sentiments Of Any Individual Community, Sect, or Religion, Etcetera. This Article Is Based Purely On The Authors Personal Views And Opinions In The Exercise Of The Fundamental Right Guaranteed Under Article 19(1)(A) And Other Related Laws Being Force In India, For The Time Being. Further, despite all efforts made to ensure the accuracy and correctness of the information published, White Code VIA Mediation and Arbitration Centre Foundation shall not be responsible for any errors caused due to human error or otherwise.)
such a default would interfere with the performance of the arbitration agreement.
Questions regarding the performance of an arbitration agreement contained in an unstamped / incompletely stamped instrument may arise in any of the following circumstances
The corollary of the discussion above is that one could now argue that judicial title requires it, with the registered approval of SMS Tea Estates
BY : Muskaan Rawat