Back
Latest News
PROCEDURE FOR MEDIATION IN MATRIMONIAL DISPUTES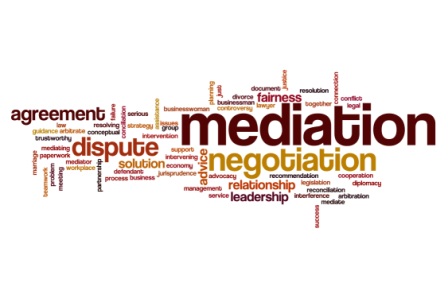 Mediation is a form of alternative dispute resolution. The conflicts are resolved through a third party who is known as a mediator. The focus of mediation proceedings is that it is neutral, flexible, cost effective, and fast.
Mediation in divorce is an efficient process. As there are more than thousands of cases in courts which are not yet settled, by taking up mediation it reduces the burden on courts. Hence, it is very efficient process. Mediation is an informal judicial process, they do not pass judgements but they provide the couples with solution for repairing their marriage. After the mediation process is over the coupes have an option either to give their marriage another chance or file a petition for divorce in the court. According to Section 9 of Family Courts Act, 1984, the parties are required to go through a mediation proceeding before they approach the court.
MEDIATION V JUDICIAL PROCESS
Judicial process adjudicates in favour of one party, mediation settlements arrived ar with consent of both the parties.
Judicial processes focuses on the past which are based on legal rights and obligations; mediation facilitates mutually acceptable agreement satisfying everyone's interests.
Mediation changes disputes from win-lose to win-win.
The main advantage of mediation process for divorce is that it cuts out the cost and the long litigation process. It is a neutral process, which benefits both the parties. It is also very flexible and does not require much formality.
The main disadvantage of mediation process during divorces is that the mediator cannot compel or force either party to cooperate.
PROCEDURE FOR MEDIATION
Unlike the Arbitration and Conciliation act there is no particular legislature to initiate the mediation process between the parties in matrimonial disputes. The process can be initiated only by two ways:
Parties voluntarily agree for mediation process or private mediation
Mediation is referred by the courts in accordance to Section 89 of Civil Procedure Code.
K.SRINIVAS RAO V D.A.DEEPA
The Supreme Court in this case emphasizes relevance of mediation in matrimonial disputes including complaints. The court observed that civil matrimonial disputes can be amicably settled by directing the parties to mediation. The courts have always taken a positive approach and encouraged the settlement of matrimonial disputes and discouraged their
Introduction
Mediation V Judicial Proceedings
Procedure for mediation
BY : Akshaya K