Back
Latest News
Indian Arbitration & Enforcement of Foreign Awards.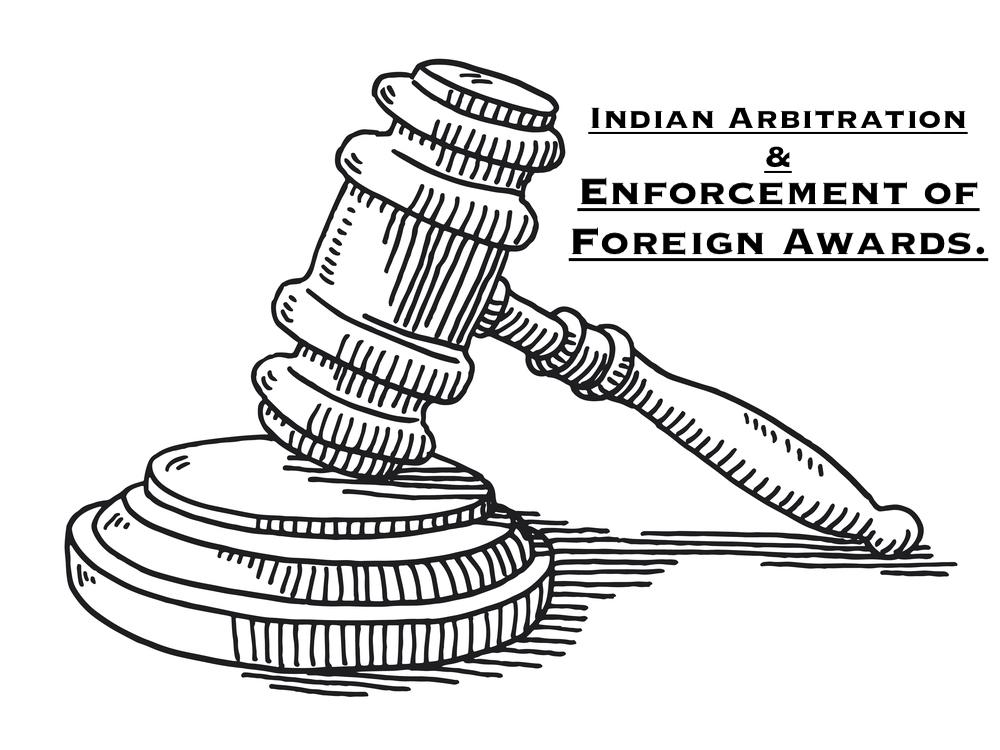 Introduction
An arbitral award is the 'judgement' passed by the arbitral tribunal after a dispute is presented before it. As per the law procedure, these awards are as enforceable as an actual judgement passed by a court of law. Arbitration procedures can lead to two kinds of awards- domestic and foreign. This article will explore the concept of foreign arbitral awards & throwing light on the legal provisions that govern the procedure surrounding them.
Legal Provisions Governing Foreign Awards in India
Since India is a signatory to the New York Convention and Geneva Convention, the execution of foreign awards is inherently adhered to since the Recognition & Enforcement of Foreign Arbitral Awards Convention is entailed within the New York Convention of 1958. The Arbitration and Conciliation Act of 1940 did not address the concept of foreign awards, but the same was changed through the 1996 amendment to the Act.
The Arbitration and Conciliation Act, 1996, entails the provisions related to foreign awards per the New York Convention and the Geneva Convention in Part I & II. There are specific sections set aside that deal with the different aspects of foreign awards as well, some of them are as follows: (where provisions post s.55 deal with the foreign awards per the Geneva Convention)
Section 44 of the Act deals with the definition of a foreign award
Section 46 of the Act ratifies the enforceability of any foreign award passed and given to the parties of an arbitration case.
Section 48 prescribes the conditions under which foreign awards can be given and enforced.
Section 56 deals with the documents that are required for the enforceability of a foreign award
Section 57 lays down the requirements for enforcing a foreign award as per the Geneva Convention.
Evolution of the Judicial Take
The intervention of Courts has been relatively limited in cases and disputes which involve the passing of a foreign arbitral award; however, some recent judgements have unleashed the conditions under which a foreign award may be nullified or challenged by a court of law in India. The case of ONGC Vs. Saw Pipes is one of them, where the Apex Court decided that if a foreign award goes against India's public policy, award of such violation will stand to be challenged in a court of law.
This Article Does Not Intend To Hurt The Sentiments Of Any Individual Community, Sect, Or Religion Etcetera. This Article Is Based Purely On The Authors Personal Views And Opinions In The Exercise Of The Fundamental Right Guaranteed Under Article 19(1)(A) And Other Related Laws Being Force In India, For The Time Being. Further, despite all efforts made to ensure the accuracy and correctness of the information published, White Code VIA Mediation and Arbitration Centre shall not be responsible for any errors caused due to human error or otherwise.
Introduction
Legal Provisions Governing Foreign Awards in India
Evolution of the Judicial Take
BY : Saloni Shukla