Back
Latest News
Statutory Provisions relating to Mediation in India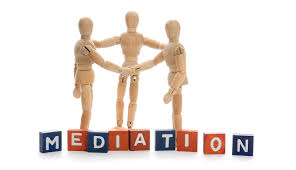 Mediation is a method of Alternate Dispute Resolution (ADR) in addition to Arbitration, Negotiation and Conciliation. It is a negotiation facilitated by a neutral third party known as the mediator[1] but unlike arbitration, mediation does not give the mediator the power to make a decision in order to settle the dispute. Mediation is a voluntary process, most of the time, and it requires consent of the parties, a term in a contractual agreement or mandate by a court. The process is different from litigation because parties have facilitated conversations and make compromises in order to resolve the dispute on their own rather than having a judge decide who "wins" and who "loses." Furthermore, the mediator supervises exchange of information and bargaining between the parties and can even suggest creative solutions to help the parties find common ground and work past unrealistic expectations. This is one of the reasons why most disputes that are mediated involve divorce, custody, labor conflicts, management issues between partners and disagreements between neighbors as these situations do not merit a lawsuit and can be resolved simply by a conversation[2]. It is different from arbitration because it is less formal, and the mediator merely facilitates a discussion between parties rather than proclaim an award like an arbitrator does.
Mediation in India can be divided into two categories: court referred mediation and private mediation. Court referred mediation is a process by which the court refers a dispute to mediation under Section 89 of the Code of Civil Procedure, 1908 and it is most frequently used to resolve matrimonial disputes, divorce in particular. Private mediation involves the parties coming together and agreeing to resolve their dispute through mediation using the services of a qualified mediator. Anyone from individuals, business partners, and appointees from the government sector can choose to resolve disputes using private mediation[3]. Since mediation is a method of alternate dispute resolution it means that the traditional process of litigation which is usually a long-drawn and costly struggle, need not be endured by parties and this is the most appealing quality of ADR.
Since courts in India are already burdened by a huge backlog of cases, there are many statutory provisions that make mediation a compulsory prerequisite to filing of a suit in court. Some of these statutes are:
Industrial Disputes Act, 1947 – Section 4 of the Act assigns conciliators the responsibility to mediate and settle industrial disputes and prescribes the procedure to be followed in great detail.
Code of Civil Procedure, 1908 – The Code was amended in 2002 which provided for the reference of all pending court cases to mediation. The amendment also prescribes mediation for all family and personal matters due to their sensitive nature.
Companies Act, 2013 – Section 4 provides for the referral of disputes to mediation by the National Company Law Tribunal and the Appellate Tribunal.
Micro, Small and Medium Enterprises Development Act, 2006 – The Act mandates mediation and conciliation when disputes arise.
Hindu Marriage Act, 1955 and Special Marriage Act, 1954 – As the courts have states before, disputes relating to marriage and divorce are more likely to be referred to and settled by mediation so the provisions under these Acts are in consonance with the same.
Real Estate (Regulation and Development) Act, 2016 – Section 32(g) provides for the amicable settlement of disputes through an established dispute resolution forum.
Commercial Courts Act, 2015 – The new amendment made to the Act in 2018 provide for mandatory mediation between parties before filing of a suit. The amendment allows litigation only if the arties meaningfully engage in mediation proceedings and still fail to resolve the matter.
Consumer Protection Act, 2019 – The new rendition of the Consumer Protection Act dedicates an entire Chapter to the resolution of disputes through mediation first before approaching a consumer redressal agency.
Even with these provisions for mediation, it is still an option not often preferred by parties due to the lack of recognition and the absence of a uniform structure to execute the resolution agreement and make it enforceable by the legislature and the judiciary[4].
[1] FindLaw, What is Mediation?, FindLaw, (Jun. 20, 2016, 7:35 PM), https://adr.findlaw.com/mediation/what-is-mediation-.html.
[2] Adrienne Krikorian, Litigate or Mediate? Mediation as an alternative to Lawsuits, MediateIndia, (Jan. 25, 2002, 3:44 PM), https://www.mediate.com/articles/krikorian.cfm.
[3] Mekha Sharma, Mediation in India, MediateIndia, (Dec, 23, 2018, 1:19 PM), https://www.mediate.com/articles/mediation-in-india-articile.cfm.
[4] Manisha Karia, Effective Implementation of Mediation in India: The way Forward, Bar&Bench, (Dec 23, 2019, 1:59 PM), https://www.barandbench.com/columns/effective-implementation-of-mediation-in-india-the-way-forward
Mediation
Statutory Provisions
ADR
BY : Rachel Thomas