Back
Latest News
Steps in Mediation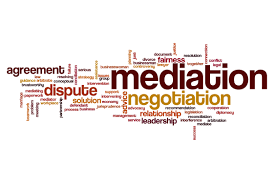 Steps in Mediation
The process of formal mediation is divided into 6 steps, which help the mediator to solve the problems of the clients efficiently.
Introductory remarks - firstly, the mediator has to wait until both the parties arrive and are present and then make introductions. He should provide a conducive environment to the parties so that none of them feels awkward or threatened. The child if present should be made to wait outside so that there is no negative impact on their mind if at all an argument takes place. Then the mediator should begin with an opening statement. All these things make a mediator neutral and the parties feel comfortable.
Statement of problem by parties – in this step the mediator allows the parties to express themselves uninterruptedly. This step is not for the recapitulation of facts but to understand the emotional state of the parties, also a lawyer, if present, can speak on behalf of the parties. The rationale behind this step is not to bring out the truth but to understand the problem and search for a solution.
Information gathering – the mediator now asks the parties some open-ended questions to build a connection and help them resolve the issue.
Problem identification – after understanding the main issues and problem of the parties the mediator tries to solve small issues which are easier and can be resolved quickly.
Bargaining and generating operation – here the mediator puts some proposals in front of the parties for resolution of the dispute, and the parties have a choice tom either accept or modify it. The most common method used is the caucus (which is generally confidential).
Reaching an agreement – once all the modification and negotiation is over, the mediator finally proposes "a brainstorming session to explore potential solutions." This may lead to the final agreement and form the basis of new future relations.
what is mediation
how does it help
what are the steps
BY : Tanya Vashistha