Back
Latest News
Importance of Conciliation and Important Provisions of the Conciliation Act, 1996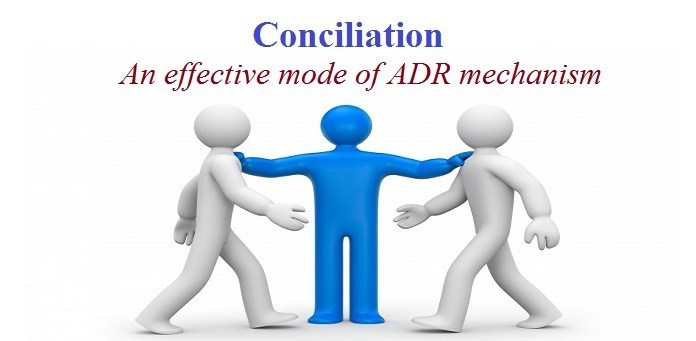 The terms Conciliation and Mediation are many times used as synonyms. Some are of the view that conciliation is a process that is pro-active form of mediation, where the third neutral party takes an even more active course in helping the parties in dispute to recognize the main causes of the dispute and makes suggestions for the path to be taken for the resolution of the dispute.
The procedure of conducting conciliation and the basic rules, regulations and standards are similar to that of mediation.
The 1996 Act is the first statute in India which talks about the process of Conciliation comprehensively. Part III of the said Act incorporates, with minor changes, the UNICITRAL Conciliation Rules, 1980.
The 1996 Act provides for the process for initiating the conciliation proceedings by way of invitation of one of the parties to dispute (Section 62) and submitting statements to conciliator regarding the general nature of the dispute and the important reasons for the dispute (Section 65). The conciliator carrying out the process is not bound by the Code or the Indian Evidence Act, 1872 (Section 66).
Role of Conciliator
Section 67 of the 1996 Act talks about the role of conciliator as under
The conciliator must actively assist the parties in dispute in an independent and impartial way and make every possible to reach an amicable settlement between the parties.
The conciliator is guided by principles of impartiality, objectivity, justice and fairness giving consideration to the previous relation between the parties.
The conciliator may carry out the proceedings in a way as he considers to be appropriate according to the requirements of the case and the requests by the parties keeping in mind the goal of speedy settlement of the dispute.
The conciliator may make proposals regarding settlement of disputes at any stage of the conciliation proceedings. It is not necessary that the proposal must be in writing.
One of the most important feature of Conciliation is confidentiality .Section 69 of the 1996 Act allows the conciliator to talk and discuss with each party separately whereas, Section 70 prohibits the conciliator from divulging to the other party any fact or information given to him by a party who gave the information with a specific condition that it be kept confidential.
Section 73 of 1996 Act asserts that the agreement of settlement signed by the parties in dispute shall be final and binding on the parties. According to Section 74 of the 1996 Act the settlement agreement has the same status as that of an arbitral award which therefore means that it has the status of a decree of a court of law.
A conciliation proceeding is successful only when both the parties sign the settlement agreement. Only such an agreement of settlement has the legal status of an arbitral award as mentioned under section 74 of the 1996 Act.
Introduction
Role of a Conciliator.
Important sections related to Conciliation in the1996 Act
BY : Vinayan Singh