Back
Latest News
Lok Adalat: Apprehension of Pending Cases and Determination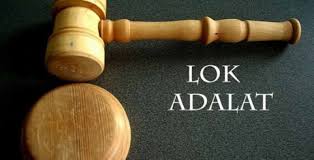 Lok Adalat: Apprehension of Pending Cases and Determination
On Submission:
When each party to the case has the same opinion for referring the case to Lok Adalat.
When one of the parties to the case files an appliance to the court, praying to refer the case to Lok Adalat and the court is prima facie satisfied that there are probability for a conclusion.
Suo Moto:
Where the court is contented that the subject is an appropriate one to be taken cognizance by the Lok Adalat, then the court shall submit the case to the Lok Adalat, after giving a sensible prospect for hearing to all the parties. Additionally, the Authority or Committee organizing Lok Adalat may, on request from any party to a dispute, refer the said dispute to Lok Adalat, after giving a sensible opportunity for hearing to all the parties.
It shall be guided by doctrine of law, justice, equity and fair Permanent Lok Adalat. It shall desire to reach a settlement or conciliation between parties.
When no cooperation or settlement is proficient, the case is to be returned to the court which referred it. Then the case will continue in the court from the stage right away before the reference.
Passing the Award
Every award of Lok Adalat must be deemed to be a decree of a civil court.
Must be signed by all the parties to the dispute and by the panel constituting the Lok Adalat.
Must be arrangement of the judicial records.
Must be uncompromising and coherent.
Must be in the regional language or in English.
A certified copy of the award will provide free of cost to all the parties.
Every award made by Lok Adalat must be final and obligatory on all the parties and no appeal shall lie against it.
If there is a pending case is which is renowned at Lok Adalat and any court fee already paid will be refunded as provided by the Court Fees Act, 1870.
Powers of Lok Adalat
The Lok Adalat have the powers of a civil court under the Code of Civil Procedure, 1908, while entertaining a suit, in respect of the following matters:-
Summon and enforce the presence of any witness and to scrutinize him/her on oath.
Put into practice the findings and production of any document.
Acknowledge evidence on affidavits.
Authority for expropriating of any public trace or document or copy from any court.
Every Lok Adalat shall have the power to identify its own modus operandi for the fortitude of any squabble approaching before it.
All proceedings before a Lok Adalat considered as judicial proceedings under Sections 193, 219 and 228 of IPC.
Every Lok Adalat considered to be a Civil Court for the purpose of Sec 195 of Cr.P.C
Suo Moto
Passing the Award
Powers of Lok Adalat
BY : Umang Yadav