Back
Latest News
LOKPAL AND LOKAYUKTA -AN INDIAN OMBUDSMAN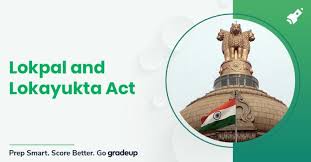 Lokpal and Lokayukta -An Indian Ombudsman
The Lokpal in India is synonymous with the concept of Ombudsman prevailing in other countries such as Sweden, Finland, Denmark, etc. The concept of Ombudsman initially originated in Sweden in the year 1809 and now adapted in many other nations in the world. It played a significant role in curbing maladministration and corruption. Ombudsman is a government official who investigates the consumer's complaints relating to the administration and judicial function. Thus, it helps to protect the rights and interest of the people and checks on abuse of power and over the exercise of jurisdiction of the superior
Lokpal and Lokayukta Act
Lokpal and Lokayukta Act is an anti-corruption body of the parliament which renders the establishment of Lokpal to inquire and investigate all the matters relating to corruption against the public officials. It is an autonomous and independent institution called Lokpal in the center and Lokayukta at the state level. The two separate Acts are curbing the corruption of public officials. The first Lokpal Chairman of India is Pinaki Chandra Ghose who is the former judge of the Supreme Court.
Features of the Lokpal and Lokayukta Act,2013
Lokyutha: According to this Act, every state has to set up Lokayutha within 365 days. The states have the authority to decide the nature and scope of the Lokayukta Act. The old bill said that it will be set up in the states where consent for the application is given and also in the old Lokayukta bill the Central Government had the authority to appoint Lokayukta for the state but the new draft gives authority to the state.
Constitution of Lokpal
The Lokpal will comprise of a chairperson and a maximum of eight members out of which fifty percent should be judicial members and fifty percent of the total member should SC, ST, OBC or minorities
Prosecution
In the Lokpal Act, 2013 the Lokpal may approve the concerned investigating agency to initiate prosecution in special courts even before deciding to file the charge sheet.
Central Bureau of Investigation
The Central Bureau of Investigation also plays a vital role in the prosecution, which provides independence to CBI to investigate the matter. As per the recommendation of the Central Vigilance Commission, a director for prosecution is appointed.
Hearing
Before a decision is rendered by Lokpal, the public servant has a right of hearing.
Investigation
The process of investigation and inquiry should be completed within six months. This involves speedy disposal of cases as the time limit to investigate is mentioned to be six months. Only after the process of Hearing, the investigation can commence.
Aim and Functions of the Act
The Lokpal and Lokayukta Act which is an anti-corruption Legislation includes the scope of all public servants, including cabinet ministers, chief minister, members of the parliament, and employees of central organizations. The Lokpal Act also gives its approval to investigate to probe the wrongdoing of the Prime Minister. Fastening the investigation of the public officials indulged in corruption and prosecution is the main purpose of the Act, except matters specifying to foreign affairs, atomic energy, security, and space.
Lokpal and Lokayukta Act
Features of the of Lokpal and Lokayukta Act,2013
Aim and Functions of the Act
BY : Subhasree Pati