Back
Latest News
Maritime Arbitration in India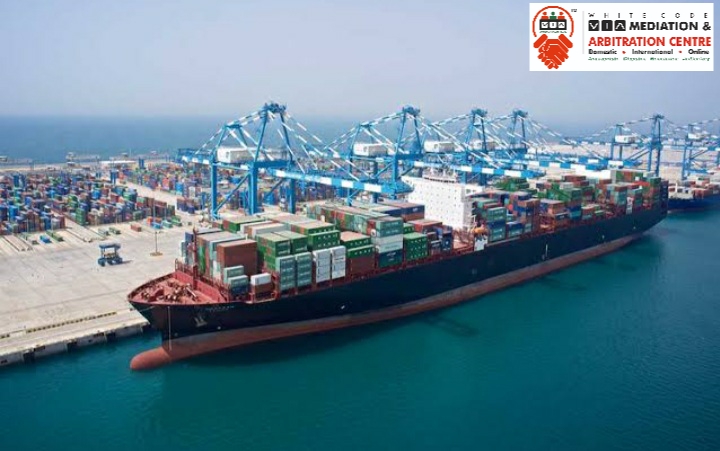 Maritime Arbitration in India
Introduction
In many industrialised nations, maritime law follows a different system and is generally separate from national law. The United Nations (UN) founded the International Maritime Organization (IMO), which has published several conventions that may be implemented by fleets and coast guards of nations who have signed the treaty defining these regulations.
In international trade and business, maritime arbitration is a well-known field of dispute settlement.
Maritime disputes that may be resolved by consensual agreement come from a wide range of activities involving the sea: ship finance, construction, sale, and acquisition, ship deployment, ship carriage of commodities by sea, ship insurance, cargo transportation, and other marine adventures and the other contractual relationships arising from the use of ships, e.g. salvage.
Maritime arbitration has its roots in international commercial arbitration, but it departs from the general model for various reasons, making it "unique" among legal sources. Arbitration is becoming the most commonly utilised method for resolving all disputes among nearly all international shipping companies. As a result, arbitration provisions are standard in international shipping contracts.
Position in India
The Maritime Arbitration Rule of the Indian Council of Arbitration is a set of maritime arbitration rules established by the Indian Council of Arbitration. These Rules regulate how domestic and international marine arbitrations are conducted in India. The arbitrator's power, the scope of arbitration, the conduct of arbitration procedures, and the methods for determining arbitration costs and other expenses are all described in these sets of rules.
On June 21, the Gujarat Maritime University and the International Financial Services Centres Authority signed a Memorandum of Understanding (MoU) at GIFT City to launch the Gujarat International Maritime Arbitration Centre (GIMAC). This will be the country's first arbitration and mediation centre for the marine and shipping industries.
In India, there are over 35 arbitration centres. Unfortunately, none of them is solely focused on the marine industry.
The Singapore Dispute Centre is presently hearing the arbitration involving Indian parties. The goal is to establish a world-class arbitration centre specialising in marine and shipping issues that can resolve commercial and financial disputes between companies doing business in the region.
Conclusion
The requirement for an amicable resolution of business disputes has become an urgent need in a worldwide market marked by fast economic growth and comprehensive logistical services. Maritime Arbitration is a distinctive arbitration with its own set of norms and procedures, which are enshrined in Arbitration Maritime Regulations, whether institutional or informal and which the parties must follow. The prospective Maritime centre in India will open doors to arbitration and dispute settlement within the region, making it cost-effective is easy for the parties.
References:
https://indianexpress.com/article/explained/indias-maritime-arbitration-centre-gujarat-gandhinagar-7373894/
https://blog.ipleaders.in/maritime-arbitration-boon-globalized-world/
https://www.lexisnexis.co.uk/legal/guidance/maritime-arbitration-an-introduction
This Article Does Not Intend To Hurt The Sentiments Of Any Individual Community, Sect, or Religion, Etcetera. This Article Is Based Purely On The Authors Personal Views And Opinions In The Exercise Of The Fundamental Right Guaranteed Under Article 19(1)(A) And Other Related Laws Being Force In India, For The Time Being. Further, despite all efforts made to ensure the accuracy and correctness of the information published, White Code VIA Mediation and Arbitration Centre Foundation shall not be responsible for any errors caused due to human error or otherwise.
In many industrialized nations, maritime law follows a distinct system and is generally separate from national law.
The Maritime Arbitration Rule of the Indian Council of Arbitration is a set of maritime arbitration rules established by the Indian Council of Arbitration.
On June 21, the Gujarat Maritime University and the International Financial Services Centres Authority signed a Memorandum of Understanding (MoU) at GIFT City to launch the Gujarat International Marit
BY : Muskaan Rawat