Back
Latest News
PROCEDURAL FORMAT OF CONCILIATION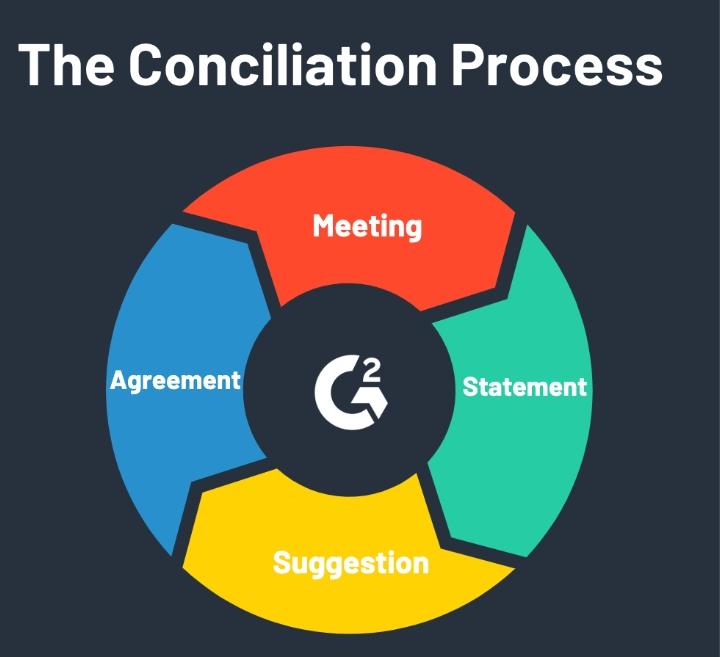 A conciliation proceeding, as an alterantive dispute redrassal mechanism, is a formal way of setting a dispute outside the court with the help of a neural adjudicator and with the consent of the parties. The procedural format of conducting the conciliation proceedings with the laws laid down by the Arbitration and Conciliation Act, 1996 have been discussed as under :
Under section 62 of the Act, the conciliation proceedings shall be commenced at the option of one party when the letter of invitation carrying the statement of intent of the first party to initiate the conciliation proceedings as well as a brief description of the subject matter of the conciliation proceedings, is being accepted in writing by the other party. However, discretion lies on the other party to accept/reject such invitation letter and in case, no reply reaches the inviting party within a stipulated time period of of thirty days or the number of days as has been mentioned in the invitation, the inviting party may consider his invitation to be declined by the invited party and he/she shall inform the other party about the same.
Under section 65 of the Act, a written statement shall be sent to the conciliator by the parties, stating briefly, the following :
the matter of the dispute
the main points of the dipute
the circumstances that has led to the dispute
the grounds substantiating the stand of the parties in the dispute
Any relevant document concerning the matter of the dispute or any evidencial information shall be sent to the conciliator, either by the parties on their own will or at the request of the conciliator.
The communication between the conciliator and the parties needs to be established to facilitate the conciliation proceedings and section 69 of the Act allows provisions for the same. The place of such coomunication shall be fixed by the conciliator with the recommendations of the parties. The communication could either be oral or in writing and may take place individually or in groups.
The settlement agreement shall be drafted as per section 73 of the Act. When the conciliaor is convinced that there exists adequate grounds of settlement acceptable to the parties, he/she may formulate the terms of such settlement and include any such additional information in the agreement, after the parties have given their observations on the same. The conciliator may provide any such assisstance to the parties as is required by them to draw up the final settlement. The final settlement, having the same status as that of an arbitration award under section 30 of the Act, shall be binding on the parties and to any of their subordinates or any person who has a connection with the dispute. A final copy of the settlement agreement shall be furnished to each party :
Finally the conciliation proceedings can be terminated by :
signing the settlement agreement on the very date when the agreement is drafted
declaraing in a written format by the conciliator with the recommendations of the parties that conciliation is no longer required
declaraing in a written format by the parties to the conciliator that conciliation proceedings are no longer required
declaraing in a written format by one party to another or the conciliator, if already appointed that conciliation is no longer required
procedure for conducting conciliation
relevant sections of the Arbitration and Conciliation Act, 1996
step wise breakdown of the sections and discussion on the same
BY : Mekhla Chakraborty