Back
Latest News
ARBITRAL TRIBUNAL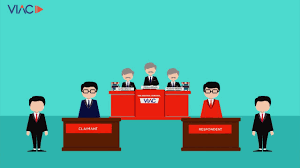 ARBITRAL TRIBUNAL
What is an Arbitration Tribunal?
At whatever point a commercial dispute arises between two or parties, and they choose to determine the dispute through arbitration, an arbitral tribunal is to be set up. It comprises of one or more arbitrators that adjudicate and resolve the dispute and give an arbitral award. The Indian Council of Arbitration has given a lot of rules known as the 'Rules of Arbitration' that are to be abided by the parties going through the arbitration cycle as well as the arbitrators. Rule 2 of these regulations characterize Arbitral Tribunal as "an arbitrator or arbitrators appointed for determining a particular dispute or difference" Section 2(d) of the Arbitration and Conciliation Act, 1996 also characterizes an arbitral tribunal as a sole arbitrator or panel of arbitrators.
Organization of an Arbitration Tribunal
Chapter III of the Arbitration and Conciliation Act, 1996 (in this alluded to as the 'Act') lays down the arrangements for the Composition of an Arbitral Tribunal. Also, Rule 22 of the Rules of Arbitration laid somewhere near the Indian Council of Arbitration states that when an application for arbitration method is gotten, the Council takes necessary strides for the constitution of an arbitral tribunal to adjudicate the disputes or differences between parties. Several arrangements concerning the piece of an arbitral tribunal are as per the following:
Number of arbitrators in an Arbitration Tribunal
Section 10 of the Act makes reference to the number of arbitrators that shall be a part of the arbitral tribunal. According to clause (1) of the Section, the parties to the dispute are allowed to mutually choose the number of arbitrators that shall establish the arbitral tribunal to adjudicate the dispute. It is, in any case, necessary that the number of arbitrators appointed shall be an odd number and not an even one guarantee that there are no ties. Furthermore, Section 10 also states that if the parties to the dispute are unable to choose the number of arbitrators, in that case, just a single arbitrator shall be appointed.
Rule 22 of the Rules of Arbitration gives that if the value of the claim made under arbitration is One Crore or less, a solitary arbitrator can resolve the dispute if the parties agree to it. In cases where the claim to the dispute surpasses one Crore, the arbitral tribunal shall be made out of three arbitrators with the agreement of the parties.
In Narayan Prasad Lohia versus, Nikunj Kumar Lohia, the Supreme Court saw that if two arbitrators are appointed for an Arbitral Tribunal instead of three, and they offer an award through regular input, there will be no frustration of proceedings.
This article does not intend to hurt the sentiments of any individual, community, sect, or religion, etcetera. This article is based purely on the author's personal opinion and views in the exercise of the Fundamental Rights guaranteed under Article 19(1)(A) and other related laws being enforced in India for the time.
ARBITRAL TRIBUNAL
SECTION 10
NUMBER OF ARBITRATORS IN ARBITRAL TRIBUNAL
BY : ADYA SINGH