Back
Latest News
Arbitration agreement and its attributes.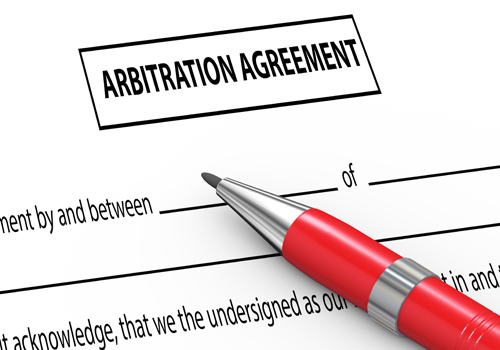 Arbitration is an adjudicatory process in which the parties to dispute present their disputes to a neutral third party (arbitrator) for a resolution. While the arbitrator has greater flexibility than a Judge in terms of method and procedure and rules of evidence, the arbitration process is akin to the litigation process.
Arbitration Agreement
A valid arbitration must be preceded by an arbitration agreement between the parties which shall be valid as per the provisions of Indian Contract Act, 1872. The parties to an agreement must have the eligibility and capability to enter into a contract in terms of Section 11 and Section 12 of the Indian Contract Act.
Attributes of Arbitration Agreement
In addition to the statutory requirement of a written agreement between the parties, existing or future disputes or issues and an intention to refer them to arbitration (Section 7, 1996 Act), other attributes which are necessary to be present for an agreement to be considered an arbitration agreement are
The arbitration agreement must contemplate that the decision reached by the arbitration proceedings of the arbitral tribunal shall be binding on the parties to the agreement.
The jurisdiction of the arbitral tribunal to decide the rights of the parties in dispute must derive either from the consent of the parties or from an order of the Court or from the statute, the terms of which make it clear that the process for the resolution of the disputes has to be arbitration.
The agreement must contemplate that substantive rights of the parties in dispute will be determined by the arbitral tribunal.
The arbitral tribunal must determine the rights of the parties in an unbiased and judicial manner with the tribunal owing an obligation of equality and fairness towards each of the party.
The agreement of the parties in dispute to refer their matter to the decision of the arbitral tribunal must be intended to be enforceable in law.
The agreement must contemplate that the tribunal will make a decision upon a dispute which is already formulated at the time when the reference is made to the tribunal.
The agreement should contemplate that the tribunal will be receiving information or evidence from both sides and hear their contentions or at least give the parties an opportunity to put them forward.
It is very possible to spell out an arbitration agreement in a contract by correspondence with the Government. But even then such contract by correspondence with the Government has to be entered into by the government officer who is duly authorized to enter into contract on behalf of the Government under Article 299 of the Indian Constitution. A contract by any person who is not authorized by the government for such a matter is void.
Introduction
Arbitration Agreement
Attributes of Arbitration Agreement
BY : Vinayan Singh