Back
Latest News
SECTION 8 OF ARBITRATION AND CONCILIATION ACT, A SAVING BEACON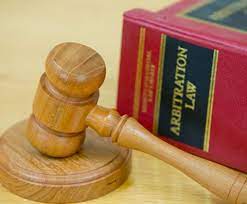 Sec 8 of Arbitration and Conciliation Act, 1996: A saving beacon
The Arbitration and Conciliation Act,1996 supplants the Arbitration and Conciliation Act,1940. In the Arbitration Act,1996, the intervention by courts was limited so the purpose behind speedy justice was well achieved in an effective manner. Sec 8 of Arbitration and Conciliation Act is one such important provision under the arbitration mechanism which limits the court's intervention and also further objective is to provide directions to the parties to get involved in arbitration based on the arbitration agreement between the parties. The uses and scope of Sec 8 of the Arbitration Act has widened over the past few years specifically to domestic arbitration
Section 8: the golden opportunity
Condition precedent Stipulated under Section 8
Section of the Arbitration and Conciliation Act is imperious in nature. On the basis of the arbitration agreement, the judiciary insists the parties choose arbitration mechanism to settle disputes between themselves. It also enlists certain conditions precedent which needs to be fulfilled before the terms can be made under the Arbitration Act 1996. In the case, P. Ganjapathi Anand Raju & Anr. Vs. P.V.G Raju & Ors, [1]the court laid down the need and importance of Section 8 under the Arbitration Act.
The following aspects need to be covered before making an application under Section 8
First, it necessary to analyze whether it can be made applicable under civil dispute, based on the applicability Sec 8 can be imposed. In the case of H. Shirninvas Pai Vs. H.V Pai [2]said that the act applies to domestic arbitration, international arbitration, and commercial conciliation. The Applicability of the act will not depend on the dispute being a commercial arbitration but rather it depends upon the existence of arbitration agreement between the parties and not on the question that it a commercial or civil dispute. There have been several arbitration agreements on civil and commercial disputes.
The presence of an arbitration agreement between the disputant parties is another significant aspect of seeking reference under Section 8 of the Arbitration Act. The term arbitration agreement as defined under Section 7 of the Arbitration Act. The importance and need of arbitration agreement in seeking reference under Section 8 of the Act were emphasized in the case of Smt. Kapana Kothari Vs. Smt. Sudha Yadhav and the judgment for the case was passed by the Hon'ble Supreme Court of India.
Effect of Arbitration and Conciliation (Ordinance), 2015
On 23rd October 2015 the Arbitration and Conciliation (Ordinance), 2015 was promulgated by the President of the country. The 2015 Ordinance amended Section 8 of Arbitration and Conciliation Act of 1996 by stipulating that jointer of non-signatories to an arbitration agreement is not permissible. Furthermore, the amendment made under Section 8 was that judicial authority mandatorily refers parties for arbitration mechanism irrespective of the decision given by any of the superior or subordinate Courts.
Conclusion
Section 8 of Arbitration and Conciliation plays a significant aspect to limit judicial intervention in the process of arbitration. However, the judiciary has drawn exceptions on intervention on the basis of the arbitrability. It is still believed that Section 8 of the Arbitration Act provides as a saving beacon for arbitration
[1] (2000)4SCC539.
[2] (2010) 12 SCC 521.
Section 8 of Arbitration Act
Conditions stipulated under section 8
Effect of Arbitration and Conciliation (Ordinance), 2015
BY : Subhasree Pati