Back
Latest News
INDIAN COUNCIL OF ARBITRATION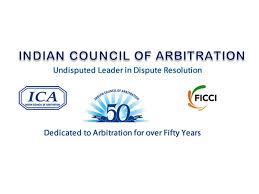 Indian Council of Arbitration
History and background of the Institution
The Indian Council of Arbitration is a premier arbitral intuition. It was set up under the recommendation of the Indian Ministry of Commerce in 1965. It was established and registered under the Societies Registration Act, 1860. It was found and sponsored by the Government of India and Chambers of Commerce and Industry. The Indian Council of Arbitration (ICA) was registered in the year 1965 as an arbitral body at the national level under the initiative of the Government of India and also an apex business organization such as FICCI. However, over a period of a few years, ICA attained an autonomous status and was recognized as an independent body. The main goal of ICA is to promulgate amicable, quick decisions, and inexpensive settlement of commercial disputes between the disputants utilizing Arbitration, Mediation, Conciliation, and Lok Adalat.
In comparison to the present scenario, ICA is not only leading arbitration in India, but it is also playing a significant role in arbitration centers in the Asia Pacific, handling more than 200 domestic and international cases every year. It also renders the business world with unrivaled and maritime services and also manages education and training in alternative dispute resolutions. Various training programs are held in different parts of the country to train the arbitrators to render unbiased and appropriate decisions to the aggrieved party and also to deliver justice. It is also a part of the administration and panel of arbitrators. ICA has stood as a result of all dispute resolution needs.
Main Functions and need of Indian Council of Arbitration
Although the result of arbitration is binding on the parties there are certain provisions guides the arbitral proceedings. The significant function of ICA is the administration of arbitration proceedings. It is considered to be a non-profit for the promotion of commercial arbitration. It keeps a check on the process of arbitration for its smooth functioning. It also tries to improvise or make changes to the alternative dispute resolution process. The ICA has a set of rules that govern entire the arbitration mechanism from its commencement to the termination process. ICA is involved in the task to promote and build capacity and capability in the field of ADR (Alternative Dispute Resolution). The facilities include court and conference rooms from 12 to 175 capacity. It is a constant effort in capacity building and disseminating information on ADR, the ICA arranges various courses and forums on a different avenue of ADR.
History and background of the Institution
Main Functions and need of ICA
Importance of ICA
BY : Subhasree Pati