Back
Latest News
Parties to arbitration agreement not entitled to pre reference in absence of any provision regarding the same.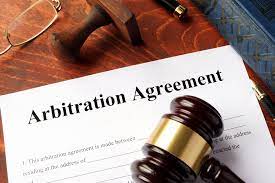 In Mahanadi Coal Fields Ltd. v. Kishorilal Loomba and Sons,[1] dismissed an arbitration appeal filed under Section 37(1) of the Arbitration and Conciliation Act, 1996.
The appellant, in his appeal, challenged the judgment of the District Judge, Sambalpur in Arbitration Petition No. 2 of 2004 dated 27-11-2006 where the District Judge, while dismissing the Arbitration Petition, confirmed the award passed by the learned Arbitrator involving Arbitration Case No. 2 of 2001
Learned counsel for the appellant, S. Mohanty, restricted his submission to the extent that for the receipt of the payment on the final bill without protest and having no claim any further involving the contract, whether the Arbitrator, as well as the District Judge, arrived in correct conclusion involving the award and judgment therein? In filing the written note of argument, the learned counsel also extended his claim to the exciting part.
The Court upheld the Arbitrator's findings that the appellant has got the work executed through the claimant unnecessarily delayed the payment of the final bill and that the sole object behind the same was to ensure that in future, the claimant would not make any claim against the respondent as in the course of the execution of the work, the respondent had committed a breach of contract and caused undue harassment to the claimant. There was no provision for obtaining any such claim undertaking from the contractor before paying the final bill in the contract.
Relying on Asian Techs Ltd. v. Union of India, (2009) 10 SCC 354, the Court found that the respondent received the final protest under protest, and therefore, the contract was not concluded. In view thereof, the Court found no scope for interfering on this aspect, particularly exercising power under Section 37 of the Act.
On the issue of payment of interest, the Court relied upon Jaiprakash Associates Ltd. (Jal) v. Tehri Hydro Development Corporation India Ltd., 2019 SCC Online SC 143 and Sree Kamatchi Amman Constructions v. Divisional Railway Manager (Works), (2010) 8 SCC 767. It held that unless and until there was an agreement, a party was not entitled to pre and pendente lite interest.
Because of the above, the Court found no scope for interfering in the aspect of payment of interest and dismissed the arbitration appeal.
[1] 2019 SCC OnLine Ori 188.
This Article Does Not Intend To Hurt The Sentiments Of Any Individual Community, Sect, Or Religion Etcetera. This Article Is Based Purely On The Authors Personal Views And Opinions In The Exercise Of The Fundamental Right Guaranteed Under Article 19(1)(A) And Other Related Laws Being Force In India, For The Time Being. Further, despite all efforts made to ensure the accuracy and correctness of the information published, White Code VIA Mediation and Arbitration Centre shall not be responsible for any errors caused due to human error or otherwise.
pre reference in case of absence of that provision
arbitration agreement provisions
clauses in an arbitration agreement
BY : Vanshika Gupta