Back
Latest News
INSTITUTIONAL ARBITRATION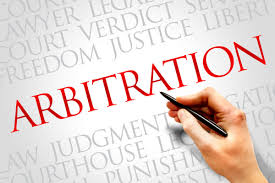 INSTITUTIONAL ARBITRATION
Arbitration is a form of alternative dispute resolution, wherein the disputants resolve their disputes outside the court. The dispute is decided by one or more persons who are known as the arbitrators. Arbitrators are either appointed by the parties or by the Indian Council of Arbitration.
Arbitration can be sub divided into various kinds on the basis of jurisdiction and on the basis of the rules and procedure followed. On the basis of the procedure followed, arbitration can be divided into ad-hoc, institutional and fast-track arbitration.
This article focuses on institutional arbitration. In this form, an institution is appointed for administering the whole process of arbitration. The arbitration agreement provides for the appointment of an arbitration institution in case of any dispute. If a dispute arises, the parties are required to make a written submission to the institution. The arbitration institution then appoints the arbitrator or a panel of arbitrators. The rules of the institution are followed during the whole process of arbitration. Most of the institutions have their own set of rules, if not then the rules of the UNCITRAL are followed.
Institutional arbitration is beneficial in many ways. First and foremost is that the rules regarding the procedure are specified. This eliminates any form of misunderstanding relating to the procedure. This also helps in avoiding conflicts between the parties regarding the procedure that must be followed. Such conflicts are very common in ad-hoc arbitration wherein, the disputants decide the procedure that should be followed.
The second advantage is that the whole process is time bound. The arbitration institution specifies a period within which the procedure must complete. This ensures timely completion of the procedure.
The arbitrators and the staff appointed for administration are very efficient. The panel of arbitrators are appointed on the basis of the subject- matter of the dispute, this enables the arbitrators to understand the complexities of the dispute. Since the administration of the procedure is handled by the staff appointed, the arbitrators are able to focus more on the dispute. But in ad- hoc arbitration the administration of the procedure is also done by the arbitrator, this makes the whole process very chaotic.
Institutional arbitration is not very prominent in India. First and foremost, reason is the cost. Institutional arbitration is expensive than ad- hoc arbitration because of the additional administrative charges. But there are various arbitral institutions that have very reasonable costs.
If people are more aware about institutional arbitration, then it will be a more preferred method. This will lead to the development of institutional arbitration in India. India can soon become the hub of international commercial arbitration.
Specified rules and procedure.
Time bound.
Specialized panel of arbitrators.
BY : Riddhika Somani